Allé Sauvage" finds BEAK> in a hypnotic mode it also comes with a live video made with John Minton, who's also worked with Portishead and Savages.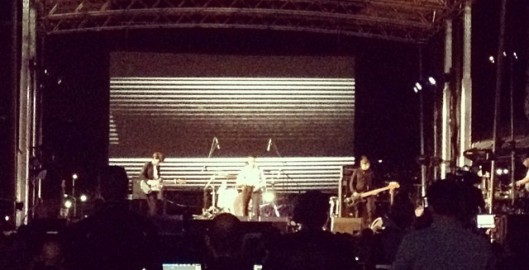 The brainchild of the Los Angeles artist Doug Aitken, Station to Station is what he calls a "nomadic happening" — a train stuffed with artists, musicians, writers, photographers, designers and other creative types — traveling east to west coast across the states. It's intended to cross-pollinate artists and communities with artfully selected work shown in train stations and dusty parking lots.
The Savages played the final destination in Oakland, CA.
Check out "STS – The Oakland Happening" by Station to Station on Vimeo.
http://vimeo.com/76383117
On 25, Sep 2013 | In Savages | By JM
Over the course of three weeks in September 2013, a train will travel from New York City to San Francisco, making nine stops at train stations across the country.
Organized by artist Doug Aitken, Station to Station will connect leading figures and underground creators from the worlds of art, music, food, literature, and film for a series of cultural interventions and site-specific happenings. The train, designed as a moving, kinetic light sculpture, will broadcast unique content and experiences to a global audience.
I'll be collaborating with the Savages for their performance at the final destination in Oakland/San Fransisco this weekend.