Open Day
Join us for the climax of the Open Day and see us herald our 31st year in style from 22:00 til midnight with a mash up of image and music celebrating 30 years. Delve into our collective audio/visual past in a night of remixes, memories and killer tunes from across the decades…
The opening 15 minutes will be a specially commissioned Watershed Birthday present from Scott Hendy (Malachai/Boca 45) head honcho of BEAM (Bristol Exchange of Arts and Music) and Bristol filmmaker John Minton (the man behind Portishead's distinctive videos and much more) followed by some outrageously danceable music – all drawn from the past three decades of the Bristol Sound.
As with everything today, entrance to the party is free!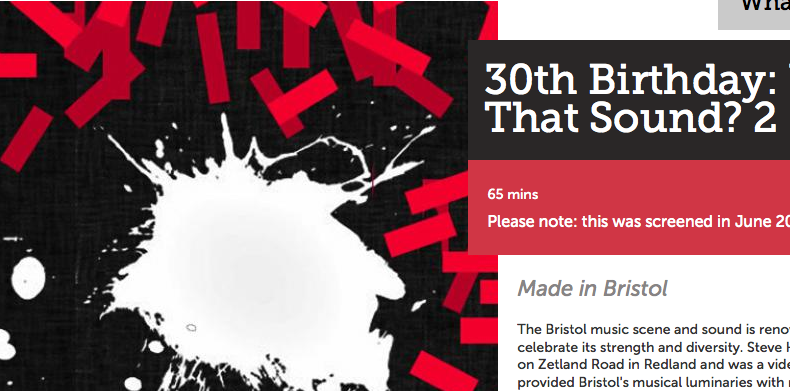 Made in Bristol
The Bristol music scene and sound is renowned worldwide – here we celebrate its strength and diversity. Steve Haley ran the Vision Factory on Zetland Road in Redland and was a video and filmmaker who provided Bristol's musical luminaries with many visual backdrops. We screen his ground-breaking video for Fresh Four's Wishing on a Star, which made it onto the Chart Show and TOTP, alongside Just A Matter Of Time (otherwise known as "Where's Tricky?"), an early Massive Attack promo and a selection of work by John Minton, the man behind distinctive videos for Portishead. Plus Radiohead's There There and small rhythmic gems from DepicT! and Electric December.